Samsung™ LED TV Service Center in Kolkata
Contact Samsung customer support for lodging complaints, TV unit installation/uninstallation or request repair service at the doorstep.
Samsung LED & LCD TV Service Centre In Kolkata
Samsung Electronics has a lion's share in the modern LED TV market share in India. Samsung is one of the reliable brand names in India because of its quality of TV and after-sales support. In Kolkata, there are a few authorized Samsung LED TV service centres through which they provide excellent technical support to their end users. Consumers can register new products or book a technician for a doorstep visit.
If you have a dysfunctional Samsung LED TV and you are looking for a trusted one, you can reach out to Urban Service Plaza. We are a reputed Samsung LED TV service centre in Kolkata and we are known to provide TV service at very affordable rates. We have been in the TV service industry for more than 30 years and they have a team of experienced technicians who can provide you with the best service.
Samsung TV Customer Care (Expired Warranty)
Call us at 9831015086, 033 2464 3032 ( landline, 10:00 am – 7:00 pm),
1800 123 8648 (Toll-Free)
WhatsApp support: +91 79808 72976
Address: 1A, Kalighat Park ( South ), 3rd Floor, Kolkata – 700026
Samsung TV Customer Care (Warranty)
Customer care: 1-800-5-726-7864 / 1-800-40-726-7864
Email support: support.india@samsung.com
Whatsapp: +91180057267864
Facebook Page: https://www.facebook.com/SamsungIndia
Twitter Profile: https://twitter.com/samsungindia
Escalate customer service queries: servicehead.in@samsung.com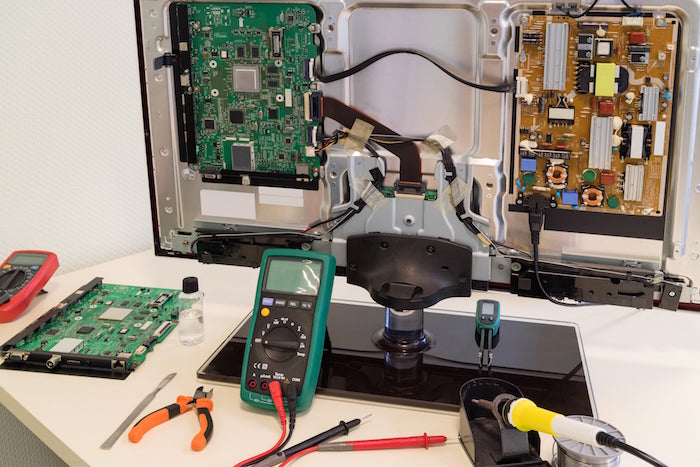 Services Offered:
Our expert Samsung TV mechanics are advanced TV technology savvy and can identify, repair, replace parts or install Samsung LED or LCD TV of any type. We do Samsung LED TV installation/uninstallation & repair Samsung QLED TV service, Samsung OLED TV service, Samsung LED TV service, Samsung LCD TV service, Samsung DLP TV service, Samsung Plasma TV service, Samsung Direct TV service, Samsung Flat TV service, Samsung Curved TV service, Samsung 1080p TV service, Samsung 4K TV service, Samsung 8K TV service, Samsung Smart TV service, Samsung HDR TV service in Kolkata, Salt Lake, New Town & Rajarhat area.
Facing These Issues?
The TV not turning on
No sound from the speakers
No picture on the screen
Distorted or fuzzy picture quality
Vertical or horizontal lines on the screen
Backlight issues such as flickering or dimming
TV turning off randomly
The remote control not working
HDMI ports not working
TV freezing or crashing
Slow or unresponsive interface
Any other issue
Samsung TV Service Centre Near Me
Find a Samsung LED TV service centre in Kolkata near your location. We are present in every PIN code of Kolkata as mentioned below: Samsung LED TV Service Centre in Salt Lake City (700091), Samsung LED TV Service Centre in Alipore (700027), Samsung LED TV Service Centre in Park Street (700016), Samsung LED TV Service Centre in Ballygunge (700019), Samsung LED TV Service Centre in Behala (700034), Samsung LED TV Service Centre in Jadavpur (700032), Samsung LED TV Service Centre in Rajarhat (700135), Samsung LED TV Service Centre in New Town (700156), Samsung LED TV Service Centre in Gariahat (700019), Samsung LED TV Service Centre in Howrah (711101), Samsung LED TV Service Centre in Dum Dum (700028), Samsung LED TV Service Centre in Tollygunge (700033), Samsung LED TV Service Centre in Lake Gardens (700045), Samsung LED TV Service Centre in Kalighat (700026), Samsung LED TV Service Centre in Maniktala (700054), Samsung LED TV Service Centre in Kasba (700042), Samsung LED TV Service Centre in Dhakuria (700031), Samsung LED TV Service Centre in Belgharia (700056), Samsung LED TV Service Centre in Ultadanga (700067)