Best TV Repair Services in Kolkata
Get Your LED, LCD, and 4K Smart TV repaired at your doorstep within 24 hours.

(249+ Reviews)

When your TV stops working you might not know where to turn. You might feel like it's going to be impossible to fix your TV by yourself. There are many companies that offer LCD & LED TV repair in Kolkata, but the best one is the one that has a good reputation and can solve the problem in the shortest amount of time at your doorstep.
Urban Service Plaza is a specialist LED TV repair service in Kolkata. We have a team of in-house LED, LCD, and Smart TV repair technicians who have long industry experience and can diagnose and repair any model of modern television brands.
With more than an era of experience in delivering prompt service, we not only assure a complete TV repair solution but also bring your damaged CRT TV, LCD TV, LED TV, Smart TV or Plasma TV unit back to life good as new.
Our TV repair technicians provide all kinds of TV repair services under one roof. Whether it's TV installation, uninstallation, or spare parts replacements you can rely on us without any hesitation.
Book LED, LCD TV Mechanic in Kolkata
Helpline: +91 9831 015 086, 033 2464 3032 ( Mon-Sat, 10am to 9pm )
WhatsApp support: +917980872976
Address: 1A Kalighat Park ( South ), Near Kalighat Clean City, Kolkata – 700026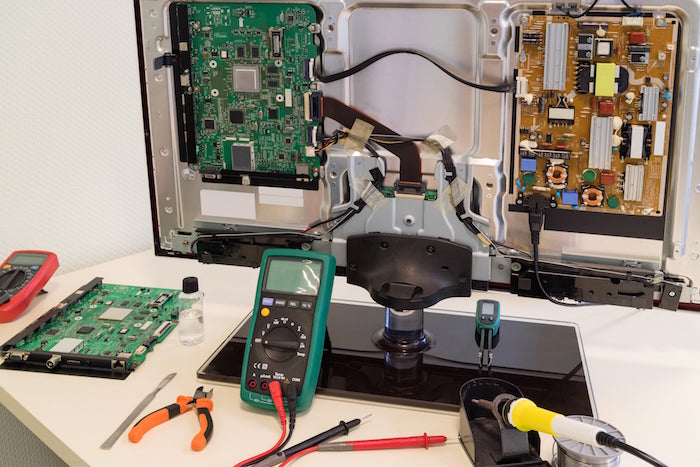 TV problems we fix
A TV can malfunction anytime and ruin your day. We don't want you to miss your important programme. Contact us immediately if you face any problems with your TV as mentioned below.
The TV not turning on
No sound from the speakers
No picture on the screen
Distorted or fuzzy picture quality
Vertical or horizontal lines on the screen
Backlight issues such as flickering or dimming
TV turning off randomly
The remote control not working
HDMI ports not working
TV freezing or crashing
Slow or unresponsive interface
Led TV motherboard problems
Services Offered:
We boast of our expert technicians who have years of relevant industrial experience and are capable of diagnosing and fixing issues with televisions made with different advanced technologies. We provide QLED TV service, OLED TV service, LED TV service, LCD TV service, DLP TV service, Plasma TV service, Direct TV service, Flat TV service, Curved TV service, 1080p TV service, 4K TV service, 8K TV service, Smart TV service, HDR TV service in Kolkata.
LED TV Repair Service In Kolkata
Your search for a LED TV repair service centre ends here. Urban Service Plaza is an ISO-certified service centre and the ultimate destination for a customer facing LED TV problems. Whether it is backlight issue repair, led panel repair or simply power supply issues, our technicians can give you a permanent solution within the least amount of time.
Smart TV Repair Service in Kolkata
As a prime smart TV repair service provider in Kolkata, Urban Service Plaza is dedicated to fixing an array of issues commonly encountered by users. Be it problems related to connectivity, software glitches, faults in audio or video, power-related matters, or malfunctioning remote controls, our adept technicians possess the proficiency to diagnose and eliminate these issues seamlessly.
CRT TV Repair Service in Kolkata
Kolkata residents know they can trust Urban Service Plaza for top-quality CRT TV repair services. Our team of skilled technicians are expert in identifying and fixing various issues that often occur with CRT TVs. Whether it is Picture distortion, colour imbalance, screen flickering or audio problems we are committed to repairing it and restoring it back to its previous state.
LCD TV Repair Service in Kolkata
Urban Service Plaza is a reputable business offering expert LCD TV repair services in Kolkata. Our skilled technicians specialize in identifying and resolving common issues found in LCD TVs, such as dead pixels, backlight malfunctions, screen flickering, and power supply problems. With our commitment to customer satisfaction, we strive to restore your LCD TV to its full functionality, delivering a seamless and immersive viewing experience.
Why choose us as?

Perfection Anytime
Don't hesitate about timing. You have control over scheduling a visit of our technician.

Phone Booking
We are available with phone booking, which means technology at your fingertip.

Experienced
Our staffs are expert, experienced, skilful. You will experience the best service ever.

Advanced Technology
We use advanced technologies to diagnose, install & repair your home appliances.

Emergency Help
You won't believe it !! We are always available at your service. It means we are available for your emergency help.

Working Area
Working area – Entire Kolkata, Salt Lake, Rajarhat, New Town. We are open from 10 am to 7 pm (Sunday closed)
Service Area
We cover a large area in Kolkata, Salt Lake, New Town & Rajarhat region. Now you can find a TV repair centre near your location in any PIN code including the followings: Salt Lake City (700091), Alipore (700027), Park Street (700016), Ballygunge (700019), Behala (700034), Jadavpur (700032), Rajarhat (700135), New Town (700156), Gariahat (700019), Howrah (711101), Dum Dum (700028), Tollygunge (700033), Lake Gardens (700045), Kalighat (700026), Maniktala (700054), Kasba (700042), Dhakuria (700031), Belgharia (700056), Ultadanga (700067)